This needs a stretch. (Feel to remove when satisfied of completion.)
Needed:
* Personality is incomplete.
* History is incomplete.
Mummy (It's A Wrap)
Vital Statistics
Species
Human/reanimated mummy
Gender
Male
Eye color
Red
Other Statistics
Identity
Splash Downing
Reason
To prevent the movie being made without him
The mummy haunted the set of the Lucasberg movie, The Mummy's Tomb.
Physical appearance
It looked like a glowing mummy. This was due to luminous paint on its gauze wrapping.
Personality
It growled and acted violently.
Powers and abilities
It showed no powers, but it did have insider knowledge of the movie set, making use of a concealed secret door, for example.
History
Scooby-Doo! (DC Comics)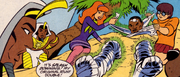 It was actually Splash Downing, the former stunt double for Todd Hunks, who was replaced because of an accident. He didn't want the movie to be made if he couldn't be in it.
Appearances
Ad blocker interference detected!
Wikia is a free-to-use site that makes money from advertising. We have a modified experience for viewers using ad blockers

Wikia is not accessible if you've made further modifications. Remove the custom ad blocker rule(s) and the page will load as expected.