This needs a stretch. (Feel to remove when satisfied of completion.)
Needed:
* Personality.
* History is incomplete.
Mummy (Mummy Under Wraps)
Vital Statistics
Species
Human/reanimated mummy
Gender
Female
Eye color
Yellow
Other Statistics
Identity
Mira Senwosret
Reason
To protect secrets of her heritage
The mummy was the disguise of Mira Senwosret.
Physical appearance
It looked like a standard wrapped mummy. It was believed to be female, since it was supposed to be the mummy of Pharaoh Senwosret. Professor Zongo had discovered that Pharoah was a woman.
Personality
Add details here.
Powers and abilities
It displayed considerable agility and strength when it burst through a window.
History
Scooby-Doo! (DC Comics)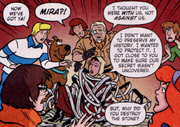 Mira Senwosret dressed up as a mummy to disrupt archeological research that might expose secrets of her heritage. One secret was the gender of the Pharaoh, and another was a secret irrigation machine that the Pharaoh invented.
Appearances
Ad blocker interference detected!
Wikia is a free-to-use site that makes money from advertising. We have a modified experience for viewers using ad blockers

Wikia is not accessible if you've made further modifications. Remove the custom ad blocker rule(s) and the page will load as expected.