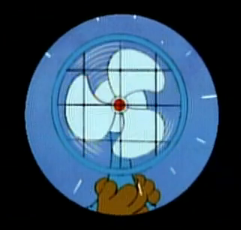 Myrtle is a top-secret army coding device.
History
The New Scooby-Doo Mysteries
It was so secret nobody was sure what it looked like, except that it was disguised as a household appliance and would respond to code phrases. The Scooby-Doo Detective Agency was given the job of finding it in Pingree's Department Store by trying out the phrases on every item they could. It turned out to look like a common fan. (A Code in the Nose)
Code phrases
Appearances
Notes/trivia
Ad blocker interference detected!
Wikia is a free-to-use site that makes money from advertising. We have a modified experience for viewers using ad blockers

Wikia is not accessible if you've made further modifications. Remove the custom ad blocker rule(s) and the page will load as expected.