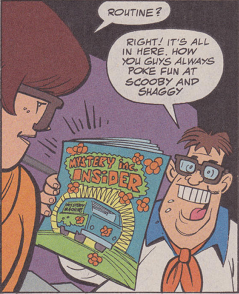 The Mystery Inc. Insider is a fan magazine read by Evander Cranapple. It purports to give inside information about the gang.
Articles
Daphne and Fred: More Than Colleagues?
Velma: the Early Years
History
Scooby-Doo (DC Comics)
Cranapple showed some copies of the magazine to the gang on the day he won an honorary membership.
Appearances
Notes/trivia
It claims that Velma as a child used to dress up as the superhero "Crime-Smacker." (There is no evidence of this other than this one unreliable source).
Ad blocker interference detected!
Wikia is a free-to-use site that makes money from advertising. We have a modified experience for viewers using ad blockers

Wikia is not accessible if you've made further modifications. Remove the custom ad blocker rule(s) and the page will load as expected.