This article is about the Mystery Machine from the TV series, Scooby-Doo! Mystery Incorporated. For other incarnations, see Mystery Machine (disambiguation).
This needs a stretch. (Feel free to remove when satisfied of completion.)
Needed: History is incomplete.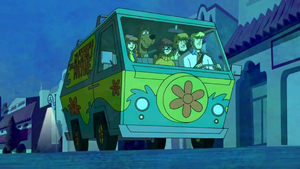 The Mystery Machine van is Mystery Incorporated's main use of transportation in their hometown of Crystal Cove, and anywhere else they may need to go.[1] Although the others members have driven the van, its primary driver is Fred Jones, Jr., who has set many traps in it. In the post-Nibiru timeline, Fred is the owner of the van.
Functions
One of the traps is opening the glove compartment from the passenger seat, which causes the passenger to be ejected.[2]
History
Scooby-Doo! Mystery Incorporated
Season one
While the gang were in Gatorsburg, the van's engine was stolen.[1]
The Obliteratrix made it look like she had destroyed the van, causing Fred Jones, Jr. and the others much anguish, but it turned out she destroyed a duplicate vehicle.[3]
Appearances
Notes/trivia
The van's license plate number is "Crystal Cove 345-600".
References