This article is about the Mystery Machine from the TV series, Shaggy and Scooby-Doo Get a Clue! For other incarnations, see Mystery Machine (disambiguation).
This needs a stretch. (Feel to remove when satisfied of completion.)
Needed: History is incomplete.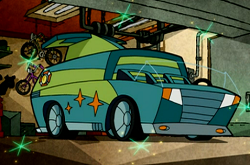 The Mystery Machine is a van owned by Shaggy Rogers that he had altered into a super-vehicle that could turn into any mode of transportation conceivable. Originally, it didn't always turn into the one he needed, however.
Modes
Van (default)
Plane
Tunneler
Canoe
Old truck
History
Shaggy & Scooby-Doo Get a Clue!
Season one
Shaggy and Scooby-Doo drove the old-style Mystery Machine to Shaggleford Manor, after Shaggy had inherited it. While they were inside the mansion, the Mystery Machine broke down and toppled over because it was so old.[1]
Season two
Insert details here.
Appearances
References
Ad blocker interference detected!
Wikia is a free-to-use site that makes money from advertising. We have a modified experience for viewers using ad blockers

Wikia is not accessible if you've made further modifications. Remove the custom ad blocker rule(s) and the page will load as expected.