Mystery Machine (Shaggy & Scooby-Doo Get a Clue!)
Talk

0
Share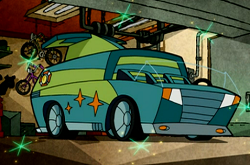 The Mystery Machine was a van owned by Shaggy Rogers that he had altered into a super-vehicle that could turn into any mode of transportation conceivable. Originally, it didn't always turn into the one he needed, however.
Modes
Van (default)
Plane
Tunneler
Canoe
Old truck
many more
Appearances
Ad blocker interference detected!
Wikia is a free-to-use site that makes money from advertising. We have a modified experience for viewers using ad blockers

Wikia is not accessible if you've made further modifications. Remove the custom ad blocker rule(s) and the page will load as expected.