Mystery sneak (There's No Creature Like Snow Creature)
Vital Statistics
Species
Human
Gender
Male
Eye color
Black
The "mystery sneak" was the term used to describe the disguise of Avalanche Anderson, used to conceal his identity while he operated the Snow Creature.
Physical appearance
While the majority of his features are concealed, it can be confirmed that he is a Caucasian male.
His outfit dampens the definition of his form. The sneak wears a dark gray mask, gray coat, dark gray pants, and black shoes. He is seen wearing gray and orange technology equipment.
Personality
The sneak is determined and ruthless. He is also secretive.
History
What's New, Scooby-Doo?
Season one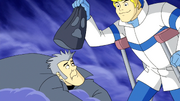 The gang was investigating the Snow Creature when they saw the sneak's shadowed figure climbing up a hill. He was later sighted again leaving the abandoned ski slope.
His final encounter with the gang was when they discovered that the mechanical creature was controlled by an outside force. They saw the sneak near the abandoned ski slope as he tried to escape. He was ultimately captured when Velma's sneeze caused an avalanche to bring him down to the gang. He was unmasked as Avalanche Anderson, who was controlling the creature using virtual reality technology.
Appearances
Ad blocker interference detected!
Wikia is a free-to-use site that makes money from advertising. We have a modified experience for viewers using ad blockers

Wikia is not accessible if you've made further modifications. Remove the custom ad blocker rule(s) and the page will load as expected.