This needs a stretch. (Feel free to remove when satisfied of completion.)
Needed: History.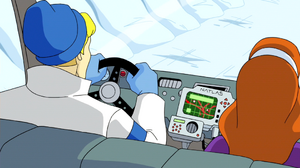 NATLAS was the Mystery Machine's "state of the art" global positioning system.
Physical appearance
NATLAS has the appearance of a GPS system.
Functions
It is supposed to direct the Mystery Inc. to their direct destination.
History
What's New, Scooby-Doo?
Season one
The cold weather in the mountains was beginning to affect its programming, instructing Fred Jones to go to the right which would've taken the gang off the road and down the side of the mountain. It then went haywire, after which it told them they had arrived at their destination of Sunset Beach and to have a good day at the shore, making Scooby-Doo laugh.[1]
Season two
Insert details here. (New Mexico, Old Monster)
Season three
Insert details here. (Fright House of a Lighthouse)
Scooby-Doo! And The Loch Ness Monster
Insert details here.
Chill Out, Scooby-Doo!
Insert details here.
Appearances
Notes/trivia
References