This needs a stretch.
Needed:
* History.
* Apocryphal.
The National Exaggerator is a tabloid newspaper in Coolsville. Young Freddie Jones reads it faithfully, absorbing all its conspiracy theories.
Employees
History
A Pup Named Scooby-Doo
Season two
Insert details here. (Curse of the Collar)
After it was purchased by Eddie Jones, it was troubled by the Chickenstein monster.[1]
Appearances
Apocryphal
Scooby-Doo! (DC Comics)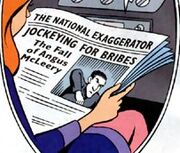 Insert details here. (Screechy Keen)
References