Nordic Alien
Vital Statistics
Gender
Female
Hair color
Light blond
The Nordic Alien was the disguise of Sheela O'Flaherty.
Physical appearance
She looks like a female Nordic alien with glasses.
History
Scooby-Doo! Mystery Incorporated
Season two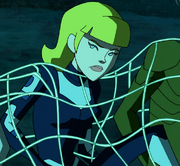 The Nordic alien, along with the Grey and the Reptoid, stole a GPS in Crystal Cove Mall. It later attacked the Crystal Cove Spook Museum and stole the Space Kook disguise and again with the Grey and the Reptoid stole the Pangea in the Blake Mansion, but was captured by the gang and Sheriff Bronson Stone. (Aliens Among Us)
Appearances
Ad blocker interference detected!
Wikia is a free-to-use site that makes money from advertising. We have a modified experience for viewers using ad blockers

Wikia is not accessible if you've made further modifications. Remove the custom ad blocker rule(s) and the page will load as expected.