This needs a stretch. (Feel to remove when satisfied of completion.)
Needed: Apocryphal.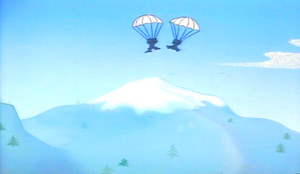 A parachute is a cloth canopy which fills with air and allows a person or heavy object attached to it to descend slowly when dropped from an aircraft.
History
A Pup Named Scooby-Doo
Season three
Scooby-Doo and Shaggy Rogers fled from the Moving Mollusk when he showed up at Critter Getters, onto a plane waiting for them on a boat. They then parachuted down over the mountains. The Moving Mollusk revealed himself from underneath them, sending them in reverse back to New York.[1]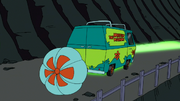 What's New, Scooby-Doo?
Season one
Fred Jones lost control of the Mystery Machine as the gang were heading for a turn around a closed off road around a cliff. Scooby pointed Fred's attention to its parachute button, which he ejected from the back of the van, before they hit "cement city."[2]
Appearances
Apocryphal
Scooby-Doo (Marvel Comics)
Insert details here. (The Phantom of Youth)
Scooby-Doo (Archie Comics)
Insert details here. (Close Encounters of the Scooby Kind!)
Insert details here. (Spooky Space Kook)
Scooby-Doo! Team-Up
Insert details here. (Quest for Mystery!)
External links
References
Ad blocker interference detected!
Wikia is a free-to-use site that makes money from advertising. We have a modified experience for viewers using ad blockers

Wikia is not accessible if you've made further modifications. Remove the custom ad blocker rule(s) and the page will load as expected.