This needs a stretch. (Feel to remove when satisfied of completion.)
Needed: History is incomplete.
Penelope Bailey
Vital Statistics
Species
Human
Gender
Female
Hair color
Gray
Eye color
Black
Penelope Bailey is the daughter of Ernest Bailey, the owner of the Scooby Snax Factory in Munchville, Ohio.
Physical appearance
Penelope is a middle-aged Caucasian female with gray hair with a slim figure. She wears a dark blue jacket under a white shirt and yellow earrings. She also applies red lipstick.
Personality
She follows a strict set of rules around the factory. She is very protective of her father, the factory, the family business, and the secret recipe. Which is why she used the disguise of the Scooby Snack Monster to protect the business from thieves, hoodlums, and other industrial espionage, and so her father forgives her.
History
What's New, Scooby-Doo?
Season two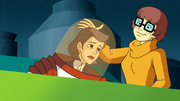 She wore the costume of the Scooby Snack Monster to protect her father's company and the secret recipe from other industrial espionage, so she was forgiven.
Appearances
Notes/trivia
She's allergic to Scooby Snacks, which is quite ironic considering she works in a Scooby Snack Factory.
Ad blocker interference detected!
Wikia is a free-to-use site that makes money from advertising. We have a modified experience for viewers using ad blockers

Wikia is not accessible if you've made further modifications. Remove the custom ad blocker rule(s) and the page will load as expected.