Phony phantom (Haunted House Hang-Up)
Vital Statistics
Species
Human/ghost
Gender
Male
Eye color
Black
The "phony phantom" was the disguise of Asa Shanks.
Physical appearance
He wore a simple white sheet, barely covering his top half, over his clothes, which consists of blue overalls, a light blue shirt, and brown shoes.
History
Scooby-Doo, Where Are You!
Season two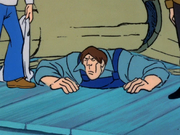 He wanted to find Penrod Stillwall's family fortune, which was hidden somewhere in the latter's broken-down mansion. The the gang and Penrod heard chopping from the mansion, so the gang devised a plan to capture him. Fred Jones and Shaggy Rogers found him inside the mansion cutting away at a column, before he noticed them. As he chased them outside, Velma Dinkley and Daphne Blake quickly held up a rope, sending him flying into a column on the porch. Being trapped under it, Fred was able to pull the sheet off to reveal Asa Shanks, Penrod's neighbor. The column turned out to hold his great-great-great grandfather's fortune all along.
Appearances
Notes/trivia
Asa's disguise is certainly the weakest of the series, if not the franchise, yet Fred and Shaggy are still frightened by him. This could be due to the fact that he was holding an axe at first, but he dropped it the moment he chased them.
Asa looks like he's chopping inside a barn, instead of a mansion.
Ad blocker interference detected!
Wikia is a free-to-use site that makes money from advertising. We have a modified experience for viewers using ad blockers

Wikia is not accessible if you've made further modifications. Remove the custom ad blocker rule(s) and the page will load as expected.