Ad blocker interference detected!
Wikia is a free-to-use site that makes money from advertising. We have a modified experience for viewers using ad blockers

Wikia is not accessible if you've made further modifications. Remove the custom ad blocker rule(s) and the page will load as expected.
This article is about popcorn in standard continuity. For popcorn in other continuities, see Popcorn (disambiguation).
This needs a stretch.
Needed: History is incomplete.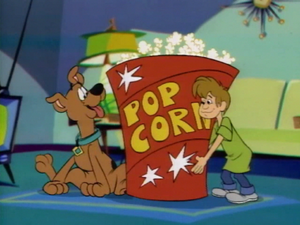 Popcorn is a type of corn that expands from the kernel and puffs up heated.
History
A Pup Named Scooby-Doo
Season one
In the evening while watching TV, Shaggy Rogers brings out a "little" bedtime snack of popcorn, which Scooby-Doo sucks up like a vacuum. Shaggy pointed out he left one, which Scooby quickly sucked up, leaving no reason for Shaggy to stay up anymore.[1]
Insert details here. (Now Museum, Now You Don't)
Scooby-Doo and the Reluctant Werewolf
Insert details here. (Scooby-Doo and the Reluctant Werewolf)
What's New, Scooby-Doo?
Season one
Insert details here. (3-D Struction)
Insert details here. (Lights! Camera! Mayhem!)
Season two
Insert details here. (Big Appetite in Little Tokyo)
Insert details here. (The San Franpsycho)
Insert details here. (Uncle Scooby and Antarctica)
Scooby-Doo! Moon Monster Madness
Insert details here. (Scooby-Doo! Moon Monster Madness)
Appearances
References
External links