This needs a stretch. (Feel free to remove when satisfied of completion.)
Needed: Physical appearance; clothing.
Omar Karam
Vital Statistics
Species
Human
Gender
Male
Hair color
Dark brown
Eye color
Black
Other Statistics
Occupation
Prince
Affiliation
Velma Dinkley
Family
Unnamed uncle (mentioned)
Omar Karam is a modern-day Egyptian prince.
Physical appearance
Omar is a handsome adult male.
Personality
Omar is a kind, sweet prince. He and Velma Dinkley showed the gang around the digging site at the Sphinx.
History
Scooby-Doo! in Where's My Mummy?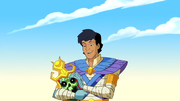 He told his uncle the Sphinx would be done in time for a celebration. When he thought Fred Jones, Daphne Blake, Shaggy Rogers, and Scooby-Doo were intruders it was mentioned that he was a fan of Mystery Inc.. He said he was sorry for being rude to them. When the wall of the temple was blown up, Omar got mad that the leader of the treasure thieves (Dr. Amelia von Butch) disobeyed Cleopatra's warning. Velma told him that if the curse wouldn't stop her then they would. Omar was the one in charge of the restoration of the Sphinx, so he and his workers became Velma's army of the undead (she was dressed as Cleopatra).
Appearances
Notes/trivia
Considering Egypt is no longer ruled by a monarchy, it's unknown how Omar is a prince.