Prissy Parsley
Vital Statistics
Species
Human
Gender
Female
Hair color
Brown
Eye color
Brown
Prissy Parsley is the niece of Alvin Parsley.
Physical appearance
She is a Caucasian female with long brown hair and brown eyes.
Personality
She was greedy; she thought only she should have the right to make a profit on the King's image. Her moral outrage at people profiting from his memory was only because it wasn't her.
History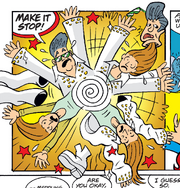 Scooby-Doo (DC Comics)
She dressed up as the King so that she could get other impersonators to stop and give her a monopoly on his image. She was first detected as an impostor because she left a scrap of her costume behind and it was made of polyester; the real Alvin Parsley was allergic to that material. The gang set a trap for her with Scooby-Doo and Shaggy Rogers dressed as Alvin impersonators, which led to her being caught.[1]
Appearances
References