This needs a stretch. (Feel to remove when satisfied of completion.)
Needed:
* Personality.
* History is incomplete.
Professor Pomfrit
Vital Statistics
Species
Human
Gender
Male
Hair color
Brown
Eye color
Black
Other Statistics
Occupation
Teacher (incarcerated)
Professor Pomfrit was a high-school teacher.
Physical appearance
Pomfrit is a middle-aged Caucasian male, with brown hair.
He wears a pair of black-framed glasses with clear blue lenses and his outfit consists of a blue blazer, black tie, a gray shirt under the suit, and a white undershirt.
Personality
Insert details here.
History
What's New, Scooby-Doo?
Season two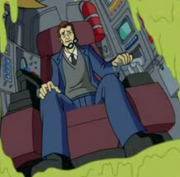 He was jealous of Dr. Akira Onodera's wealth, so he created a robot resembling a giant, Godzilla-esque version of Shaggy Rogers to destroy Onodera's factory as the Ancient One predicted, with all the blame going to Shaggy and the Ancient One's curse. Pomfrit apologized to Velma Dinkley and he was sent to jail.
Appearances
Quotes
Pomfrit: Because everything he has should be mine. Why is he rich, while I'm just an underpaid high-school teacher?
Velma: (sadly) Somebody's favorite high-school teacher.
Pomfrit: (sighs) You're a brilliant girl, Velma. You were my prize student, and I used your ingenious invention for my own selfish ends. I'm very sorry.
Notes/trivia
William Schallert, the voice of Professor Pomfrit, also played the teacher, Mr. Leander Pomfritt, on The Many Loves of Dobie Gillis.
Professor Pomfrit is one of the few Scooby-Doo villains to express regret for what he had done. As a result, the "meddling kids" line is instead given by Keiko Tanaka, a police officer who previously chased the gang around trying to arrest them.
Ad blocker interference detected!
Wikia is a free-to-use site that makes money from advertising. We have a modified experience for viewers using ad blockers

Wikia is not accessible if you've made further modifications. Remove the custom ad blocker rule(s) and the page will load as expected.