Professor Pomfrit
Vital Statistics
Gender
Male
Hair color
Brown
Eye color
Black
Other Statistics
Occupation
Teacher
Professor Pomfrit is a teacher.
History
What's New, Scooby-Doo?
Season two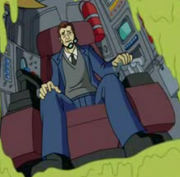 He used a monster legend to frame Shaggy Rogers because he was jealous of Dr. Akira Onodera's wealth. He created the Shaggyzilla to destroy Onodera's factory as the Ancient One predicted, with all the blame going to Shaggy and the Ancient One's curse. Pomfrit apologized to Velma Dinkley and he was sent to jail.
Appearances
Quotes
(refering to Dr. Onodera) "Because everything he has should be mine. Why is he rich, while I'm just an underpaid high-school teacher?"
(sadly) "Somebody's favorite high-school teacher."
(sighs) "You're a brilliant girl, Velma. You were my prize student, and I used your ingenious invention for my own selfish ends. I'm very sorry."
- Pomfrit and Velma.
Notes/trivia
Professor Promfrit was one of the few Scooby villain that was sorry about what he had done. As a result the "Meddling Kids" line is given by Keiko Tanaka who chased the gang in order to arrest them.