This needs a stretch.
Needed: Synopsis.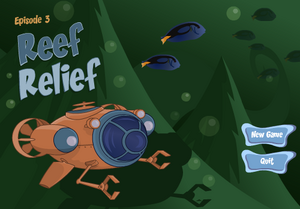 Reef Relief is the third part in the Horror of the High Seas four-part online serial game.
Premise
When Shaggy and Scooby-Doo escape from the flooded Neptune's Nest and return to the ship, they discover a stow-away suspect. Then the ship's power cuts out and they must re-start the engine to avoid crashing into rocks. Finally, they spot the ghost pirate's ship again and decide they must board it to look for clues.
Synopsis
Insert details here.
Characters
Main characters:
Supporting characters:
Tommy (single appearance)
Villains:
Sharks (single appearance)(no lines)
Other characters:
Objects
Vehicles
Cast
Notes/trivia
See also
External links
Ad blocker interference detected!
Wikia is a free-to-use site that makes money from advertising. We have a modified experience for viewers using ad blockers

Wikia is not accessible if you've made further modifications. Remove the custom ad blocker rule(s) and the page will load as expected.