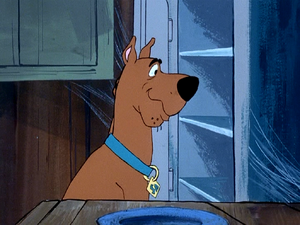 A refrigerator (colloquially fridge) is an appliance used to artificially cool food and other items.
Physical appearance
Insert details here.
History
Scooby-Doo, Where Are You!
Season one
In Franken Castle, Shaggy Rogers and Scooby-Doo found Fried Moonbeams, Pickled Vampire Wings, and Werewolf Snacks in the fridge.[1]
Checking for food while investigating at the abandoned airfield, Scooby ate the chicken and ham bone he found in the fridge, without telling Shaggy (but left him an olive), who quickly realized they were clues to someone living on the base.[2]
Scooby-Doo Meets the Boo Brothers
Isert details here.
What's New, Scooby-Doo?
Season three
In the morning after the gang had returned home to Coolsville, for a rest from solving mysteries, Shaggy checked his and Fred Jones's fridge, which still had take-out long past its sell-by date.[3]
Appearances
Other continuities
Scooby-Doo 2: Monsters Unleashed
Scooby found a fridge (concealed with a mirrored door) in Jonathan Jacobo's laboratory. He and Shaggy took on major transformations after unwittingly consuming some of the chemicals inside.[4]
Shaggy & Scooby-Doo Get a Clue!
It was morning, and Shaggy and Scooby were ready to eat. But to their surprise, the fridge was empty of any food.[5]
Scooby-Doo! Mystery Incorporated
Shaggy's parents had stopped him and Scooby from having a bedtime snack because he had been caught, with the gang), snooping around the Mayor's office. Fortunately, he and Scooby had a back-up fridge -- his bed -- which was also where he hid a piece of the Planispheric Disk. The Freak of Crystal Cove knew this, and came to collect it.[6]
References
External links
Ad blocker interference detected!
Wikia is a free-to-use site that makes money from advertising. We have a modified experience for viewers using ad blockers

Wikia is not accessible if you've made further modifications. Remove the custom ad blocker rule(s) and the page will load as expected.