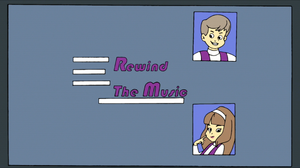 Rewind the Music is a documentary TV series on old and long forgotten musicians.
History
What's New, Scooby-Doo?
Season one
When Mystery Inc. found a secret room in Murph's garage shop full of Mystery Kids memorabilia, they turned on an edition of Rewind the Music focusing on the rise and fall of the aforementioned group, one scene showing Flash Flannigan, their keyboardist, angrily walking out on what would be their last performance with everyone believing him to be dead.[1]
Appearances
References