This needs a stretch. (Feel to remove when satisfied of completion.)
Needed:
* Personality.
* Skills and abilities.
* History is incomplete.
Reynaldo (Scooby-Doo! Ghastly Goals!)
Vital Statistics
Species
Human
Gender
Male
Hair color
Dark gray
Eye color
Black
Other Statistics
Occupation
Security guard (incarcerated)
Affiliation
El Cordobes (formerly)
Family
Father
Reynaldo was the head of security at the El Cordobes research laboratory.
Physical appearance
Reynaldo is a middle-aged male, with dark gray hair, and a black mustache. He has some wrinkles in his face. He wears a black suit with a black tie and a grey shirt underneath.
Personality
Insert details here.
Skills and abilities
Insert details here.
History
Early life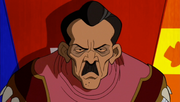 As a child, he wanted to be a stage magician, but he came from a family of security guards. In adulthood, he became head of security of the El Cordobes lab, but his childhood dream never died, which led him to turn to criminal acts to support his dream. He dressed up as Eshu, a Brazilian mythological creature, and stole Professor Eduardo Perez's secret formula that could make rubber objects virtually unstoppable. He covered his escape by pretending to be another mascot during the parade for the International Soccer Cup. As he was about to make his exit in an alleyway a ball knocked into him and the test tube holding the formula, sending it flying all over the place.
Scooby-Doo! Ghastly Goals!
Unfortunately, Scooby-Doo got to it first.
Appearances
Ad blocker interference detected!
Wikia is a free-to-use site that makes money from advertising. We have a modified experience for viewers using ad blockers

Wikia is not accessible if you've made further modifications. Remove the custom ad blocker rule(s) and the page will load as expected.