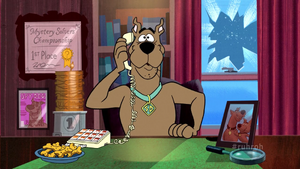 Rooby-Roo is the second of three State Farm commercials, based on Hanna-Barbera's Saturday morning Scooby-Doo franchise. It originally aired in 2013. It was directed by Tony Cervone.[1]
Premise
Scooby's speech impediment stops him from checking his insurance.
Synopsis
Scooby phones Mystery Insurance, Inc. from his desk. The operator asks for his name, but she doesn't understand him (because he pronounces his name as "Rooby-Roo"), quickly hanging up. Scooby wallows in self pity with a Scooby Snack.
Characters
Main characters:
Supporting characters:
Operator (only time heard)
Other characters:
Locations
Objects
Framed Spy-Dog magazine
Framed photo of Scooby and Scrappy
Vehicles
Cast
Notes/trivia
Animation mistakes and/or technical glitches
Inconsistencies/continuity errors and/or goofs/oddities
Scooby has a broken window for some reason.
Whether there's anything more between Mystery Inc. and Mystery Insurance, Inc. other than having similar names is unknown.
The commercial suggests that Scooby would have better success with State Farm, which the previous commercial already had them members of anyway (hence Velma calling on them (or maybe she was just a member?)).
Quotes
See also
References
Ad blocker interference detected!
Wikia is a free-to-use site that makes money from advertising. We have a modified experience for viewers using ad blockers

Wikia is not accessible if you've made further modifications. Remove the custom ad blocker rule(s) and the page will load as expected.