This needs a stretch. (Feel free to remove when satisfied of completion.)
Needed:
* Physical appearance.
* History.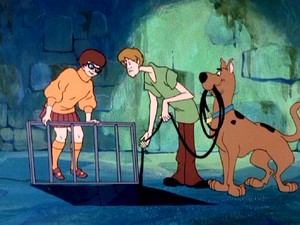 A rope is a length of thick, strong cord, made by twisting together strands of hemp, sisal, nylon, or similar material.
Physical appearance
Insert details here.
History
Scooby-Doo, Where Are You!
Season one
After the Ghost Clown hypnotized accidently himself into thinking he was a monkey, Scooby-Doo led him out of the tent they were in, with a bunch of unpeeled bananas from his tail; while Shaggy Rogers kept him under control with a leash, made of rope. Shortly thereafter, the Ghost Clown (returned to normal) had been locked in an animal cage, and had also been restrained with pieces of rope around his arms/body, wrists, and ankles.[1]
Insert details here. (A Gaggle of Galloping Ghosts)
Season two
Insert details here. (Jeepers, It's the Creeper)
Scooby-Doo and Scrappy-Doo (second series)
Season one
Insert details here. (Long John Scrappy)
Insert details here. (A Fright at the Opera)
Season two
Insert details here. (Excalibur Scooby)
Season three
Insert details here. (Picnic Poopers)
Scrappy & Yabba-Doo
Insert details here. (Law & Disorder)
The New Scooby and Scrappy Doo Show
Insert details here. (Scoobsie)
Appearances
References
External links