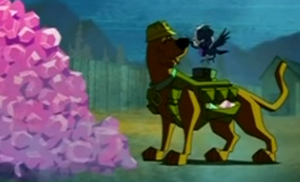 Rose Quartz is a type of quartz that is pink and is found in the mines beneath Crystal Cove. It was the final ingredient for the antidote for Scooby and Pericles to stop Aphrodite. It can be found at the Darrow Mining Company.
Appearances
Scooby-Doo! Mystery Incorporated - Where Walks Aphrodite
Quote
"And finally, Rose Quartz: mined from the caves beneath Crystal Cove." - Professor Pericles.