San Franpsycho
Talk

0
6,832pages on
this wiki
The San Franpsycho redirects here. For the episode, see The San Franpsycho (episode).
San Franpsycho
Information
Gender
Male
Hair
None
Eyes
None (red glow)
Identity
Rutie Banez
Motive
To ruin the Grind Games because she was rejected for being a bad skate boarder (she thought it was bacause she was girl)
Production details
First appearance
WNSD: The San Franpsycho
Played by
John DiMaggio
The San Franpsycho was the disguise of Rutie Banez.
Physical appearance
Insert details here.
Personality
Insert details here.
History
What's New, Scooby-Doo?
Season two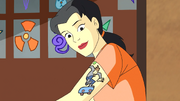 She wanted to ruin the Grind Games because she was rejected for being a girl (in reality it was because she was a bad skateboarder). (The San Franpsycho)
Appearances