Scooby-Doo! First Frights
Talk

7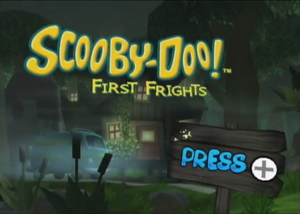 Scooby-Doo! First Frights is a 3-D adventure video game released on Nintendo DS, Playstation 2, PC and Wii. It was developed by Torus.
Premise
Insert details here.
Synopsis
Prologue
Velma arrives at the gang's clubhouse (located in a swamp) with a newspaper, announcing to the gang that there will be a food festival at Keystone Castle. Scooby and Shaggy like the idea of going, but Daphne reminds them that they promised to help her cousin Anna at the St. Louis High School Musical. Scooby and Shaggy want to help her, but they plan to get it done quickly so they can go to the food festival.
Episodes
Epilogue
Insert details here.
Cast
Notes/trivia