Scooby-Doo! Mystery Incorporated
Talk

22
7,365pages on
this wiki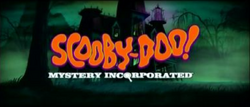 Scooby-Doo! Mystery Incorporated, also known as Mystery Incorporated and Scooby-Doo! Mystery Inc., is the eleventh incarnation of Hanna-Barbera's Scooby-Doo Saturday morning cartoon TV series. It is produced by Warner Bros. Animation and shown as a modernized approach of the original series. The voice cast from the 2002-2006 series, What's New, Scooby-Doo?, reunites for the new series, with the exception of Matthew Lillard (who appeared in the first two live-action Scooby-Doo movies) replacing Casey Kasem (due to the latter's retirement). Casey Kasem still remains on the show but portrays Shaggy's father, Colton. The series premiered on Cartoon Network April 5, 2010.
Overview
Four inquisitive teens, along with their canine mascot live in a small town called Crystal Cove, the older generation and parents use the town's long history of ghost and monster sightings to bring in tourists even if means to hide the truth and putting everyone in danger, which leads to conflicts between the gang and their elders. While solving mysteries, the team must deal with a mysterious character named "Mr. E" who tells them they have begun to uncover the "truth of Crystal Cove" and the case of the missing previous Mystery Incorporated gang.
Episodes
Main article: List of Scooby-Doo! Mystery Incorporated episodes
Cast
Recurring
Online game
Main article: Scooby-Doo! Mystery Incorporated Crystal Cove Online
Cartoon Network has a new game online [1].
Monsters unmasked
See List of Scooby-Doo! Mystery Incorporated monsters and villains.
Notes
The names and appearances of the gangs' parents differ from previous incarnations.
The gang now lives in Crystal Cove instead of Coolsville.
There is a different version of the opening in episode 29-30 with Hot Dog Water instead of Daphne Blake.
Gallery of background art