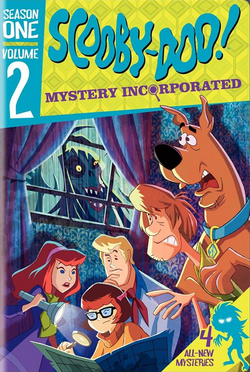 Scooby-Doo! Mystery Incorporated: Season One, Volume 2 is a DVD containing episodes five-eight of the first season of Scooby-Doo! Mystery Incorporated. It was released by Warner Home Video on May 10, 2011.
Product description
ANOTHER COMICALLY CREEPY CASELOAD FOR THE MYSTERY INC. CREW.
Mystery is their name - and spooky business is their game! Scooby-Doo, Shaggy, Freddy, Daphne and Velma take on four more creepy cases from their new series set in Crystal Cove, the most haunted place on the planet. Children can often be little monsters, but a creature named Que Horrifico does the real deal, turning the town's youngsters into real monsters. A new girl in school has a crush on Fred, who may not have a ghost of a chance unless he discovers the teen's true nature. The Hex Girls' concert could be their swan song when a menacing specter called The Phantom starts calling the tune. And an unexpected guest joins the festivities at the Royal Knights Faire: a scary-looking gnome who paralyzes everyone dressed in a pirate constume. Come as you are - and investigate the frightening fun.
Episodes
Notes/trivia
In other languages
| Language | Name | Meaning | Notes | Distributor |
| --- | --- | --- | --- | --- |
| Greek | Scooby-Doo! Ιστορίες Μυστηρίου: Περίοδος Πρώτη, Μέρος 2 | Scooby-Doo! Mystery Tales: First Season, Volume 2 | None. | Audio Visual Entertainment |
External links