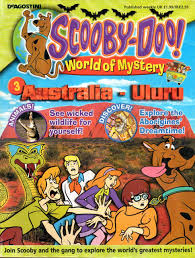 Scooby-Doo! World of Mystery is a comic-magazine series which De Agostini ran for 100 issues from 2004-2006. The series featured Scooby and the Gang going to various countries such as Australia and Thailand. Alongside the series were trading cards of which there were about 350. The cards varied from glow in the dark monsters to location cards.
List of magazines
Ad blocker interference detected!
Wikia is a free-to-use site that makes money from advertising. We have a modified experience for viewers using ad blockers

Wikia is not accessible if you've made further modifications. Remove the custom ad blocker rule(s) and the page will load as expected.