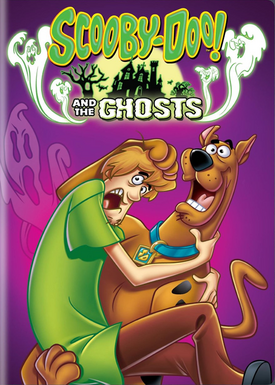 Scooby-Doo! and the Ghosts is a DVD compilation of 3 ghost-themed episodes from various Scooby-Doo series. It was released by Warner Home Video on August 30, 2011.
Product description
3 GHOSTLY, GHASTLY CASES SCARE UP FUN AND LAUGHS WITH SCOOBY-DOO AND THE MYSTERY, INC. CREW!
The thrills kick off with a Cajun caper and a Big Scare in the Big Easy when Scooby-Doo and the Mystery, Inc. crew uncover unearthly spirits at a huanted New Orleans cemetery! Then, the gang heads to Hollywood in Lights! Camera! Mayhem!, where a tour of Piranha Studios brings them face to face with the ghost of a legendary teen idol. Follow Scooby-Doo and his friends for more haunted fun as they outwit a bank robber in Jeepers, It's the Creeper! Remember, when it comes to solving mysteries involving spooks and cooks, Scooby-Doo and his crew know just what to do!
Episodes
Notes/trivia
The cover features a simple floating ghost.
In other languages
| Language | Name | Meaning | Notes | Distributor |
| --- | --- | --- | --- | --- |
| Greek | Scooby-Doo! και τα Φαντάσματα | Scooby-Doo! and the Ghosts | None. | Audio Visual Entertainment |
External links
Ad blocker interference detected!
Wikia is a free-to-use site that makes money from advertising. We have a modified experience for viewers using ad blockers

Wikia is not accessible if you've made further modifications. Remove the custom ad blocker rule(s) and the page will load as expected.