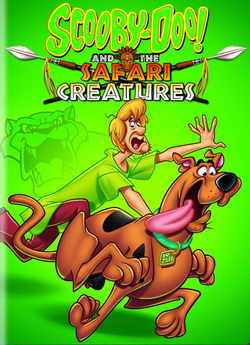 Scooby-Doo! and the Safari Creatures is a DVD compilation of 3 animal-themed episodes from What's New, Scooby-Doo?. It was released by Warner Home Video on March 6, 2012.
Product description
GO WILD AS SCOOBY-DOO AND THE MYSTERY, INC. CREW SOLVE 3 HAIR-RAISING MYSTERIES!
The gang flies off to Africa for a video animal Safari, So Goodi!, only to learn that – zoinks! – the creatures are actually shape-shifting Jungle demons! In Homeward Hound, a "fiercely fanged" cat creature petrifies the competing pooches at a dog show, including the visiting Scooby-Doo! Finally, a giant Wakumi bird is stealing sculptures that are scheduled to be housed in a museum in New Mexico, Old Monster. There's never a dull moment when Scooby-Doo enters the scene!
Episodes
Notes/trivia
In other languages
| Language | Name | Meaning | Notes | Distributor |
| --- | --- | --- | --- | --- |
| Greek | Scooby-Doo! και τα Πλάσματα του Σαφάρι | Scooby-Doo! and the Creatures of the Safari | None. | Audio Visual Entertainment |
External links
Ad blocker interference detected!
Wikia is a free-to-use site that makes money from advertising. We have a modified experience for viewers using ad blockers

Wikia is not accessible if you've made further modifications. Remove the custom ad blocker rule(s) and the page will load as expected.