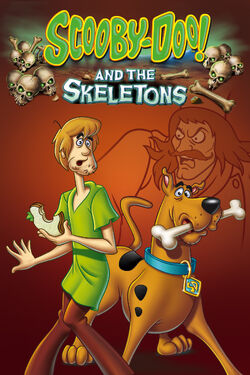 Scooby-Doo! and the Skeletons is a DVD containing three episodes from two Scooby-Doo series. It was released June 26, 2012 in parts of Europe.
Product description
WATCH OUT FOR THE BONES, SCOOBY-DOO!
What do a spooky sea serpent, buried treasure, Paul Revere's ghost and the Harlem Globetrotters have in common? They're all the same scary boat in The Loch Ness Mess. In Scooby a La Mode, the gang visits France for the 200th birhtday of Academie Versailles - and winds up in the middle of a Parisian pastry puzzle. Then, a trip to Transylvania finds the crew babysitting for the new residents of the Frankenstein Castle - the Draculas! - in Who's Minding the Monster? Mystery and laughs abound the world 'round for Scooby-Doo and the unbeatable Mystery, Inc. crew.
Episodes
TNS&SDS: Who's Minding the Monster?
Notes/trivia
Ad blocker interference detected!
Wikia is a free-to-use site that makes money from advertising. We have a modified experience for viewers using ad blockers

Wikia is not accessible if you've made further modifications. Remove the custom ad blocker rule(s) and the page will load as expected.