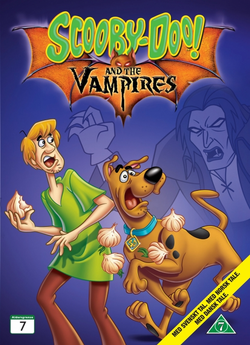 Scooby-Doo! and the Vampires is a DVD containing three episodes from three Scooby-Doo series. It was released on November 6, 2012 in parts of Europe, before a wider release by Warner Home Video in the US on January 14, 2014.
Product description
SCOOBY-DOO SINKS HIS TEETH INTO A SPOOKY MYSTERY!
Beware of dark and stormy nights! In The Vampire Strikes Back, Scooby-Doo and the gang watch the shoot of a new Hex Girls music video, only to be victimized by vampires. Next, a flat tires forces Shaggy and the dogs to shack up in a mansion inhabited by vampires in A Fit Night Out for Bats. And when the gang celebrates a friend's birthday on Great Skull Island, they discover a host of vampire bats decided to crash the party in Vampire Bats and Scaredy Cats. Who's afraid of vampires? Definitely Scooby-Doo!
Episodes
SD&SD (2nd series): A Fit Night Out For Bats
Notes/trivia
External links