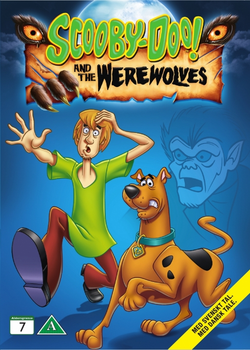 Scooby-Doo! and the Werewolves is a DVD compilation of three werewolf-themed episodes from various Scooby-Doo series. It was released in parts of Europe on October 23, 2012.
Product description
BEWARE OF THE FULL MOON, SCOOBY-DOO!
How fast can you say "pack of trouble"? When the Mystery, Inc. crew camps out in the Great Nothwest, they are dogged by curious paw prints in Who's Afraid of the Big Bad Werewolf? In Where's the Werewolf?, a house-sitting job on Gargoyle Street turns Scooby-Doo into a howling beast. And when Scooby-Doo decides to visit his relatives in Doo Manor, the Scooby-Doo Detective Agency winds up investigating a curse in The Were-Doo of Doo Manor. Talk about barking up the wrong family tree! It's one dog-eat-dog case after another in this hair-raising collection featuring the laughable, loveable Scooby-Doo!
Episodes
Scooby-Doo and Scrappy-Doo (second series): Where's the Werewolf
Notes/trivia
External links