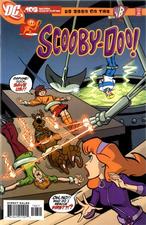 Scooby-Doo! issue 106 is an issue of Scooby-Doo! originally published 2006, May.
Stories
Picture This Mystery (one-page hidden picture puzzle)
Notes/trivia
The story "Danger-Prone Daphne" comes closest to depicting the scene on the cover, even though the death-traps in the story are different than the ones shown there.
Ad blocker interference detected!
Wikia is a free-to-use site that makes money from advertising. We have a modified experience for viewers using ad blockers

Wikia is not accessible if you've made further modifications. Remove the custom ad blocker rule(s) and the page will load as expected.