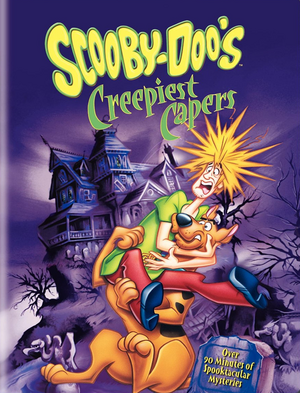 Scooby-Doo's Creepiest Capers is a DVD containing four episodes of Scooby-Doo, Where Are You!. Total run time of 90 minutes. It was released by Warner Home Video in August 2002.
Product description
Join the spook-busting, case-cracking, snack-munching fun as Scooby-Doo and the Mystery, Inc. gang gear up for four of their most frightening adventures ever!
Traveling the globe on their ongoing quest to trip up crooks (and chow down on munchies), Scooby-Doo, Shaggy, Daphne, Fred and Velma tangle with a supernatural assortment of eerie adversaries. Facing multiple monsters, ghouls galore and gobs of ghosts, our top-dog detective and those "meddling kids" will stop at nothing to get their ghoul as they confort SCOOBY-DOO'S CREEPIEST CAPERS!
Episodes
Special features
Notes/trivia
External links
Ad blocker interference detected!
Wikia is a free-to-use site that makes money from advertising. We have a modified experience for viewers using ad blockers

Wikia is not accessible if you've made further modifications. Remove the custom ad blocker rule(s) and the page will load as expected.