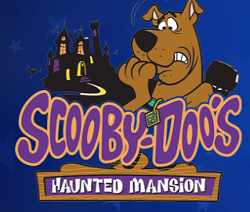 Scooby-Doo's Haunted Mansion is an amusement park ride created by the Sally Corporation. It is done in the "dark ride" style. When Sally Corp refused to renew their license in 2010, the Cedar Fair parks versions were changed to Boo Blasters on Boo Hill.
Cast and characters
Locations
Paramount Canada's Wonderland – Toronto
Paramount's Carowinds – Charlotte, North Carolina
Paramount's Kings Island – Cincinnati, Ohio
Paramount's King's Dominion – Richmond, Virginia
Parque Warner – Madrid, Spain
Six Flags Fiesta Texas – San Antonio, Texas
Six Flags St. Louis – St. Louis, Missouri (as Scooby-Doo's Scary Swamp Adventure)
Ad blocker interference detected!
Wikia is a free-to-use site that makes money from advertising. We have a modified experience for viewers using ad blockers

Wikia is not accessible if you've made further modifications. Remove the custom ad blocker rule(s) and the page will load as expected.