Ad blocker interference detected!
Wikia is a free-to-use site that makes money from advertising. We have a modified experience for viewers using ad blockers

Wikia is not accessible if you've made further modifications. Remove the custom ad blocker rule(s) and the page will load as expected.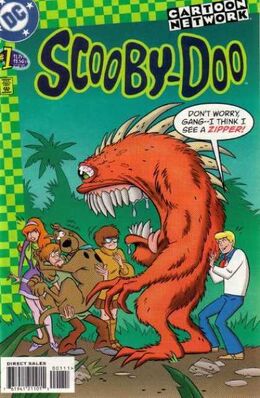 Scooby-Doo, later retitled Scooby-Doo!, is a comic series originally published by DC Comics from 1997-2010. It was immediately followed by Scooby-Doo, Where Are You?.
Issues
| # | Title | Publication |
| --- | --- | --- |
| 1 | Scooby in the Booby Hatch! / Scooby Snooze | June 11, 1997 |
| 2 | The Roswell Riddle / Stubble Trouble | July 1997 |
| 3 | The Truth / Wax Attacks! | August 1997 |
| 4 | The Old Ways / How I Spent My Winter Break | September 1997 |
| 5 | Legend of the Silver Scream / The Best Laid Plans | October 1997 |
| 6 | Ghost Riders in Disguise / Repeat Offender | November 1997 |
| 7 | The Ogre of O'Hare / Reincarnation Ruckus! | December 1997 |
| 8 | Like a Cracked Mirror / Kung-Food Fightin'! | January 1998 |
| 9 | Scooby-Voodoo-Krewe / Costume Caper | February 1998 |
| 10 | Six is a Crowd / Shaggy's Sasquatch Search! | March 1998 |
| 11 | Hajj Dodger / Behavior Modification | April 1998 |
| 12 | The Comic Book Convention Caper / Gnome Alone? | May 1998 |
| 13 | Welcome to Monsterville / No Bones About It! | June 1998 |
| 14 | I'll Take Manhattan / Scooby's Amaze-ing Adventure | July 1998 |
| 15 | Broncs and Boogiemen / South Pacific Scooby! | August 1998 |
| 16 | Almost Live from Big Puce / Guest Stars! | September 1998 |
| 17 | Monster Museum / The Ghost of Christmas Presents | October 1998 |
| 18 | Are We Scared Yet? / Sound Stage Spook | November 1998 |
| 19 | The Curse of the Scary Scarab / Psychic Psyche-Out! | December 1998 |
| 20 | Wraithcar Driver / Ghost in the Machina | January 1999 |
| 21 | Revenge of the Mudman / Revenge, Inc. | Apr. 1999 |
| 22 | Goop on the Loose / The Curse of Wrangler Field! | May 1999 |
| 23 | The Big Lake Fake / The Haunted Halibut | Jun. 1999 |
| 24 | Don't Believe What You See! / Surf's Up, Monster's Down | July 1999 |
| 25 | The Phantom of the Mosh Pit / Caves of Castle Finn | Aug. 1999 |
| 26 | One Night in Roswell Part One: Spies from the Skies / One Night in Roswell Part 2: Attack of the Agents in Black | Sept. 1999 |
| 27 | One Night in Roswell Part 3: Flying Saucer Face-Off! / Cut to the Chase | Oct. 1999 |
| 28 | Last of the Mugwumps / High School Ghoul | Nov. 1999 |
| 29 | Three Shears for Shaggy / The Oceanarium Horror | Dec. 1999 |
| 30 | Spring-Heeled Jack / Dog Gone Ghost | Jan. 2000 |
| 31 | Phantom of the Wrestling Ring! / Artichokes and Old Paste | Feb. 2000 |
| 32 | It's a Wrap / The Library Lurker | Mar. 2000 |
| 33 | Return of the Star Dog / The Creeping Horror | Apr. 2000 |
| 34 | The Hound of the Basket Cases / Return of the King | May 2000 |
| 35 | Phast Phood Phantom / The Weeping Bride of Lover's Leap | Jun. 2000 |
| 36 | Double Trouble / The Mystery Machine Mystery | July 2000 |
| 37 | Bee Ball! / Witch Pitch | Aug. 2000 |
| 38 | The Curse of the Jungle Tomb / Techno? Heck, No! | Sep. 2000 |
| 39 | Two Heads Are Better Than None / The Chocolatier Chortled! | Oct. 2000 |
| 40 | Roc Around the Clock / Ghost Tour | Nov. 2000 |
| 41 | Trolley Molly / Down in the Dumps | Dec. 2000 |
| 42 | Dig Them Bones / Good Ghost Haunting | Jan. 2001 |
| 43 | Nutcracker Not-So-Sweet / Mascot Madness | Feb. 2001 |
| 44 | Planet-Terrorium / The Jersey Devil | March 2001 |
| 45 | Diamond Dog / Rest in Pizza | April 2001 |
| 46 | Ghost Writer / The Ex-Verminators | May 2001 |
| 47 | Bats What I'm Afraid Of / Tune Goon | June 2001 |
| 48 | Yikes! It's the Vikings! / Personality Disorder | July 2001 |
| 49 | The Case of the Greedy Tar / Elf King Swing | Aug. 2001 |
| 50 | Big House Brouhaha | Sept. 2001 |
| 51 | The Revenger / Scare Wear | Oct. 2001 |
| 52 | The Haunted Cave / To Haunt Or Not to Haunt | Nov. 2001 |
| 53 | Prom Fright / Fight or Flight | Dec. 2001 |
| 54 | Scooby Dooby Voodoo / Kayak Attack | Jan. 2002 |
| 55 | The Tracks of My Fears / Chili Chiller | Feb. 2002 |
| 56 | The Case of the Cinema Spirit / The Italian Hellion | March 2002 |
| 57 | Don't Be Such a Dragon / The Devil and the Deep Boo Sea | April 2002 |
| 58 | The Postal Ghost / Creature from the Blue Lagoon | May 2002 |
| 59 | Ghouls on Film / Mr. Sandman, Bring Me a Scream! | June 2002 |
| 60 | Scooby-Doo in The Dragon's Eye, Part 1, House of the Seven Gargoyles / Scooby-Doo in The Dragon's Eye, Part 2, Russian into Danger | July 2002 |
| 61 | Mystery Date / Scooby-Doo in The Dragon's Eye, Part 3, Beat the Devil | Aug. 2002 |
| 62 | Hear No Evil / Scooby-Doo in The Dragon's Eye, Part 4: The Mask in Damascus | Sept. 2002 |
| 63 | Barnstormin' Banshee / Scooby-Doo in The Dragon's Eye, Part 5, The Kali of the Wild! | Oct. 2002 |
| 64 | Hot Springs, Cold Sweat / The Dragon's Eye, Part 6: Scooby-Doo Dai Kaiju Tengu | Nov. 2002 |
| 65 | Screechy Keen / The Dragon's Eye, Part 7, Shanghaied in the Forbidden City! | Dec. 2002 |
| 66 | Don't Play Dummy with Me / Scooby-Doo in The Dragon's Eye Conclusion: Just Deserts | Jan. 2003 |
| 67 | Icy Reception / The Fright Before Christmas! | Feb. 2003 |
| 68 | Creature Feature / The Creepy Cruise | March 2003 |
| 69 | Land-Grabbing Ghosts / Skeleton Skare | April 2003 |
| 70 | Petrified! / The Grappling Guardian | May 2003 |
| 71 | Doozy Ghoulespie / The Spirits of Appledown County | June 2003 |
| 72 | Psychic Fiend Network / The Case of the Cold Trail | July 2003 |
| 73 | The Boston Pulse Snatcher / Scooby Dooby Smackdown | Aug. 2003 |
| 74 | Who's Who in Scooby-Doo | Sept. 2003 |
| 75 | Ghost to Ghost TV / Lean, Mean Mystery Machine | Oct. 2003 |
| 76 | Wail of a Tale / Fashion Emergency | Nov. 2003 |
| 77 | The Telescope Terror / The Night Marchers | Dec. 2003 |
| 78 | A Broken Winged Dragon / The Mine is Mine | Jan. 2004 |
| 79 | Prisoner of the Ghost in the Iron Mask / The Ghostly Guest | Feb. 2004 |
| 80 | The Gray Man / Cravin' the Raven | March 2004 |
| 81 | It's Always Feral Weather / Under Pressure | April 2004 |
| 82 | What a Ghoul Wants / Trouble in Store | May 2004 |
| 83 | You'll Never Lurk in This Town Again / Mystery Macabre | June 2004 |
| 84 | Curse of the Irate Pirate / Working Stiffs | July 2004 |
| 85 | Wat a Scare! / Gargoyle Foil | Aug. 2004 |
| 86 | Dread and Breakfast / Daphne's Dilemma / The Phantom Herd | Sept. 2004 |
| 87 | The Monster of Shoogy Cove / Multi-Monster Mania / Unfair Play at the Fair | Oct. 2004 |
| 88 | Unbelievable Beast / The Shadow Knows / The Crossword Clue | Nov. 2004 |
| 89 | In the Beatnik of Time / Velma's Crime Solving / How's Bayou? | Dec. 2004 |
| 90 | All My Tomorrows / The White Shoe Scare / Fishy Story / Oh No, Not Again! / Scooby's Amaze-ing Adventure / The Mystery Machine Mystery | Jan. 2005 |
| 91 | The Kung Fu Ghost Girl / I've Lost My Glasses / The Maze of Maize / How to Make a Monster / Roller Ghoster | Feb. 2005 |
| 92 | A Wolf in Creep's Clothing / Code of Dishonor / The Curse of the Living Statue | March 2005 |
| 93 | Par for the Course / Cover Story | April 2005 |
| 94 | The Haunted Half-Pipe / Spared Tires / What is What is What / Write From Wrong | May 2005 |
| 95 | You've Got Ghoul! / The Pretend Painting / What's Missing? / Daphne's Fashion Trip | June 2005 |
| 96 | Follow That Monster! / Another Mystery All Wrapped Up / Big Game Haunter | July 2005 |
| 97 | Night of the Jinkies / Yo Ho Haunted / Shell Shocked | Aug. 2005 |
| 98 | Most Haunted / Mixed-Up Mansions / Driving Me Batty! | Sept. 2005 |
| 99 | The Fright Aquatic / Cowpoked / Things That Go Bump in the Walls / Saur Feat | Oct. 2005 |
| 100 | The Trial of the Century! | Nov. 2005 |
| 101 | Ashes to Ashes, Dust to Dust Jackets / Something to Sink Your Teeth Into / Driving School Ghoul | Dec. 2005 |
| 102 | Quit Buggin' Me / You Do Voodoo Dolls / Gridiron Ghoul / Super-Duper Superstitions | Jan. 2006 |
| 103 | Snowball Fright / Ghoul Ascending a Staircase / Dig Those Crazy Ghosts | Feb. 2006 |
| 104 | The Ice-Manster Cometh / Total Wash Out / Bite-Sized Beasties | Mar. 2006 |
| 105 | The Blind Leading the Blind / The Park After Dark / Hot Time in the Old Temple Tonight | Apr. 2006 |
| 106 | Dead & Let Spy / The Ghostly Fruit Stand / Picture This Mystery / The Dragon In The Bathroom / Danger-Prone Daphne | May 2006 |
| 107 | Howl in the Family / Shaggy and the Killer Sandwich / A Case for the Birds / Howl's Well That Ends Well | Jun. 2006 |
| 108 | Two Scoobys Are Better Than One / The Haunted Clubhouse / Field of Screams | Jul. 2006 |
| 109 | Seaside Frights / UFO-No! / The Lost Survivors of Monster Island | Aug. 2006 |
| 110 | The Greatest Of Us All / Unmasking Made Easy / The 13th Floor / The Bed Sheet That Goes Boo | Sep. 2006 |
| 111 | Family Plot / Sinister Sounds / You Want Frights with That? / Sinister Sounds II | Oct. 2006 |
| 112 | Eek-stra Innings / Wolf in Sheep's Clothing / Dr. Krankenstone's Monster | Nov. 2006 |
| 113 | The Terror of Transylvania / Mad Science / The Perilous Pendulum | Dec. 2006 |
| 114 | Turkey Terror at 2000ft. / Shoot the Moon / Sushi Me? Sushi You! | Jan. 2007 |
| 115 | It's A Wonderful Fright / Velma's Monsters of the World: The Yeti! / Santa's Evil Elves | Feb., 2007 |
| 116 | Yeti Spaghetti / Velma's Monsters of the World: Tsukumogami / Mystery on the Alaska Express | Mar. 2007 |
| 117 | Kingdom By the Sea / Ravenous / The Tell-Tale Heartburn | Apr. 2007 |
| 118 | This Old Haunted House / Velma's Monsters of the World: The Plat-Eye / Whodunit? | May 2007 |
| 119 | Mummy Under Wraps / Ghost in the Machine / The Texas Tooth-Step | June 2007 |
| 120 | Ape Misbehavin' / Home Run Haunting / Ice Creaming Mimi | July 2007 |
| 121 | Kickin' Pirate Booty / The Creature from the Rainbow Waterpark / A Real Steal / Velma's Monsters of the World: Kraken | Aug. 2007 |
| 122 | Let Liberty Scream! / Franklin, My Dear... / What Are You Afraid Of? / Museum Mayhem / Flour Power | Sept. 2007 |
| 123 | Back to School Ghoul / Friday Night Frights / Cheers for Fears | Oct. 2007 |
| 124 | Chill Out, Scooby-Doo! | Nov. 2007 |
| 125 | Scooby's Mini-Mysteries: Fly By Night / Ghosts in the Mystery Machine / A Well-Laid Trap / Time To Scare / Monster Mix-Up / Velma's Monsters of the World: Werewolves / Velma's Monsters of the World: Medusa / Solution Page for Fly By Night & Time To Scare | Dec. 2007 |
| 126 | Miami Frights / The Siren of Hampton Reef / Marina Screama / The Phantom of the Rock Club | Jan. 2008 |
| 127 | Family Monster / The Football Fiend / The Freeloading Ghost | Feb. 2008 |
| 128 | Ghouls Night at the Opera / A Town Called Vladsburg! | March 2008 |
| 129 | History is History / The Creature of Lagoona Beach / Snacks on a Plane | April 2008 |
| 130 | Chupacabra-Cadabra / Worse Than a Curse / Velma's Monsters of the World: Rokuro-Kubi / Surreal Cereal Spook | May 2008 |
| 131 | The Toxic Troll / Fashionistas / Velma's Monsters of the World - Acheri | June 2008 |
| 132 | Flight Fright! / The Boy Who Cried Werewolf / Velma's Monsters of the World: The Manticore | July 2008 |
| 133 | Hot Time in the Temple Tonight / Secrets Unlimited / Velma's Monsters of the World: The Calchona | Aug. 2008 |
| 134 | Ready-to-Werewolf / Daphne's Fashion Tips for the Serious Crime Fighter! / Velma's Monsters of the World - Mets-Haldijas / The Not-So-Great Race! / Velma's Monsters of the World - Fearsome Critters | Sept. 2008 |
| 135 | Those Meddling Kids / Carnival of Fate | Oct. 2008 |
| 136 | Family Plot / Sinister Sounds / You Want Frights With That? / Sinister Sounds II | Nov. 2008 |
| 137 | The Terror of Transylvania / Mad Science / The Perilous Pendulum | Dec. 2008 |
| 138 | Dead & Let Spy / The Ghostly Fruit Stand / Picture This Mystery / The Dragon In The Bathroom / Danger-Prone Daphne | Jan. 2009 |
| 139 | It's a Wonderful Fright / Velma's Monsters of the World: The Yeti! / Santa's Evil Elves | Feb. 2009 |
| 140 | Snowball Fright / Ghoul Ascending a Staircase / Dig Those Crazy Ghosts | March 2009 |
| 141 | Scooby-Doo and the Shadow Goblin | April 2009 |
| 142 | "Ah...Rival" / Velma's Monsters of the World: The Chenoo / To Zombie, Or Not to Zombie? | May 2009 |
| 143 | The Wicked Witch of the West Wing / Velma's Monsters of the World: Cadborosaurus / Sunday in the Park with Scooby! | June 2009 |
| 144 | Fangs But No Fangs! / Velma's Monsters of the World: Aniwye / Brush with Danger / A Horror in One | July 2009 |
| 145 | Man of a Thousand Monsters! / Velma's Monsters of the World: La Velve / At Least That Beast | Aug. 2009 |
| 146 | Yankee Doodle Danger / From Russia with Glove | Sept. 2009 |
| 147 | Great Barrier Creep / Howling Good Time | Oct. 2009 |
| 148 | Sumo A-Go-Go / Stars Behind Bars | Nov. 2009 |
| 149 | Them! / Big Girls Don't Sneeze | Dec. 2009 |
| 150 | The Black Katz / The Blackest Knight | Jan. 2010 |
| 151 | Fright Ride / In the Spirit | Feb. 2010 |
| 152 | Sleeper's Peepers / Karmic Chaos! | March 2010 |
| 153 | The Phantom of the Opal! / Car-Tastrophe | April 2010 |
| 154 | Scooba Doo! / I Want My Mummy! | May 2010 |
| 155 | Over The Boardwalk / It's a Mystery! | June 2010 |
| 156 | Read All About It! / The Missing Mummy Mystery | July 2010 |
| 157 | The Night of the Undead! / Velma's Monsters of the World: Yama-Uba / The Beat of the Bayou Beast / Velma's Monsters of the World: Griffin | Aug. 2010 |
| 158 | The Purloined Poe-M / Velma's Monsters of the World: Zombies / Velma's Monsters of the World: Pricolici / Velma's Monsters of the World: Azeman | Sept. 2010 |
| 159 | Attack of the 50-Foot Shaggy! / Frankly? Freaky! | Oct. 2010 |
External links