This needs a stretch. (Feel to remove when satisfied of completion.)
Needed: Synopsis.
This article is about the Sega Genesis game, for the unrelated Super Nintendo game with the same name, look here.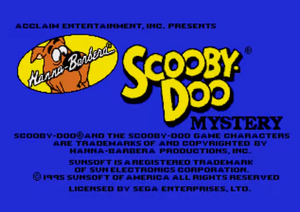 Scooby-Doo Mystery, also known as Scooby-Doo, is the name of two video games published by Acclaim Entertainment and distributed by Warner Bros. Interactive Entertainment as a North America exclusive in November 1995, based on the Scooby-Doo, Where Are You! animated series. This one, developed by Illusions Gaming Company for the Sega Genesis, is a more traditional adventure game with a point-and-click-style interface. The other title developed by Argonaut Software and released for the Super Nintendo Entertainment System, is an adventure game with platforming elements.
Unlike the other game, which features four stages, this game has two readily available for the player to choose from. The player takes control of Shaggy Rogers (who's followed around by Scooby-Doo), with the other members of Mystery Inc. serving minor roles during gameplay.
Levels
Cast
Notes/trivia
Gallery
External links
Ad blocker interference detected!
Wikia is a free-to-use site that makes money from advertising. We have a modified experience for viewers using ad blockers

Wikia is not accessible if you've made further modifications. Remove the custom ad blocker rule(s) and the page will load as expected.