Scooby-Doo Mystery (Sega Genesis)
Talk

0
| | |
| --- | --- |
| | This needs a stretch. |
| | |
| --- | --- |
| | Things need cleaning up! |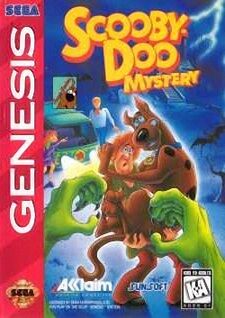 Characters in the game
Playable
Shaggy - the easy-going, laid-back toadie loves eating and has a special affinity for huge sandwiches. He tries to help the gang solve mysteries whenever he can, but he's often too chicken to be of any help.
Non playable
Fred - the leader of the group, this blonde actually has some brains between his ears. He helps devise the traps that help the gang catch the villains. Also when he says "there are clues are still around", that means there is a clue remaining in the area.
Daphne - this amiable redhead gives Shaggy and Scooby, one Scooby snack.
Velma - this intelligent, up and coming mystery solver helps Shaggy and Scooby sort out the items they find. Using clues that the duo find, she helps shed some light on the mystery.
Scooby - the man's best friend is smarter than the average dog. Using his super-sniffer, he helps Shaggy root out clues and just like his friend Shaggy, he loves eating and is a noted coward.
Gameplay
You control Shaggy in this game and have access to 10 different commands, they are:
Take - Pick up items
Look - Look at anything in greater detail
Open - Open objects
Push - Push objects
Eat - Eat objects
Give - Give items to someone
Talk - Talk to someone
Shut - Shut objects
Pull - Pull objects
Use - Use an item on something
Mysteries (stages with ghosts)
See also