| | |
| --- | --- |
| | A haunting need for images |
| | |
| --- | --- |
| | Things need cleaning up! |
Scooby-Doo Spooky Coaster is the ride based on the 2002 live-action, Scooby-Doo. The ride has been open since June 17, 2002. The ride is located at Warner Bros. Movie World in Gold Coast, Austraila.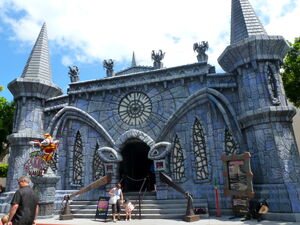 Summary
Ride
Once the ride begins, the first part is like a typical dark ride, embellished with effects including a swinging axe and various other spooky-themed audio animatronics displays. Along the way, an animatronic Scooby-Doo which tell the rider which way the carriage will go next until it reaches to a platform. At the platform acsends vertically it tilts to the side giving the illusion that you fall out. As it rises you can hear a conversation between Daphne and Scooby. Once the carriage has reached the top of the elevator, and at the top of the ride building, it drops backwards 7 metres (23 ft.) towards to turnable which spins the carriage around before continuing along the roller coaster track. This is where the wild mouse section of the roller coaster begins. The section features various smoke, lightning and laser effects as well a giant spider (as previously seen in Harry Potter Movie Magic Experience and Halloween Family Fun Nights). The ride is musically accompanied by the punk rock band, MXPX playing a cover of the Scooby-Doo theme song. A final aminatronic Scooby-Doo shows the rider the way out of the wild mouse section. The ride ends with a very small drop to the exit platform. Riders exit through a gift shop to buy various Scooby-Doo merchandise and on-ride photos.
Ad blocker interference detected!
Wikia is a free-to-use site that makes money from advertising. We have a modified experience for viewers using ad blockers

Wikia is not accessible if you've made further modifications. Remove the custom ad blocker rule(s) and the page will load as expected.