This article is about Scooby and Daphne in Be Cool, Scooby-Doo! continuity. For Scooby and Daphne in other continuities, see Scooby-Doo and Daphne Blake (disambiguation).
This needs a stretch. (Feel free to remove when satisfied of completion.)
Needed:
* Dynamic.
* History is incomplete.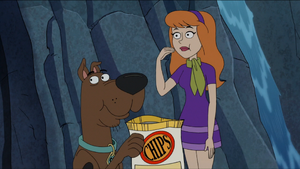 Scooby-Doo and Daphne Blake are friends in their mystery-solving group.
Dynamic
Insert details here.
History
Be Cool, Scooby-Doo!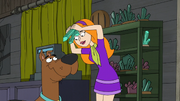 When Scooby-Doo and Shaggy Rogers had a falling out, the former moved onto the other members of the gang, starting with Daphne. Things went well until his bag of chips got soaked, and she didn't share his grief over it.[1]
Daphne became interest in the crystals of the Crystal Canopy being able to make telepathic thoughts, which she then would be able to know what dogs were thinking, to which he responded by saying she wouldn't understand.[2]
Insert details here. (Scary Christmas)
References