This needs a stretch.
Needed: Synopsis.
Chronology
Previous special


-

Next special

Arabian Nights is a television special, based around The Book of One Thousand and One Nights, which originally aired September 3, 1994 on TBS. It is notable for being one of the last performances of Don Messick as the voice of both Scooby-Doo and Boo Boo Bear, as well as the final Scooby-Doo cartoon to be produced by Hanna-Barbera Cartoons, Inc.
The special features classic Hanna-Barbera characters Scooby-Doo, Shaggy Rogers, Yogi Bear, Boo-Boo Bear, and Magilla Gorilla. Scooby and Shaggy are mostly used as set up for the two main tales. It was produced in a manner similar to the classic Warner Bros. cartoons, similar to Steven Speilberg's Animaniacs, which debuted the previous year, down to the music. The animation style is also different from the previous TV movies, drawn in a more flatter style with brighter colors and stylized character designs (in some ways similar to A Pup Named Scooby-Doo).
Premise
Scooby and Shaggy are hired as royal food-tasters by a young Arab Caliph - a job offer they can't refuse. When they eat everything, the nearsighted Caliph gets mad and has his guards chase them, until he finds Shaggy disguised in drag as a harem girl. In order to make the prince fall asleep, Shaggy tells him two classic stories with a twist.
Synopsis
Insert details here.
Characters
Main characters:
Supporting characters:
Villains:
Other characters:
Locations
Objects
Flying carpet
Wedding cake
Vehicles
Cast
Notes/trivia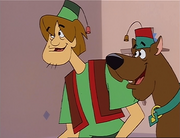 Miscellaneous
Disguises: Shaggy as a harem; Scooby as a female assistant dress maker.
Animation mistakes and/or technical glitches
Scooby's dog tag colors (blue and yellow) are reversed several times throughout the movie, more times than showing the original one. This could be part of the redesign of Scooby.
When the guard holds his arm out to let Shaggy and Scooby in the palace, his goatee is missing.
Home media
Quotes
Gallery
External links