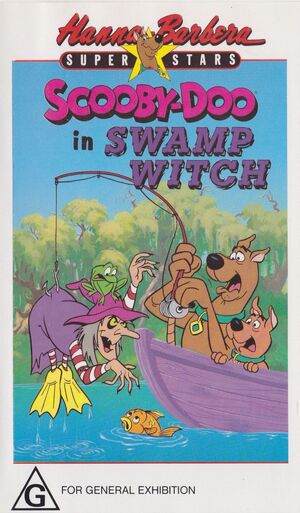 Scooby-Doo in Swamp Witch is a VHS tape in the Hanna-Barbera Super Stars collection, containing four episodes from The Richie Rich/Scooby-Doo Show. It was released in 1990.
Product description
Get set for chills and chuckles with everybody's favorite hound-dog hero, Scooby-Doo! Join Scoby, Scrappy and the rest of the gang in four frightfully outrageous off-beat adventures! Scooby and his pals get all wrapped up in an ancient mystery as they travel to the Sahara in "Mummy's the Word." Then, the gang finds that they're the main course at a dinner cooked up by "Swamp Witch." In "Scooby at the Center of the World," there's an underground encounter with Rock Monsters and giant bats! And in "Scooby's Desert Dilemma," our intrepid trio squares off against a malicious magician!
INCLUDES: Hanna Barbera Fun Safety Tips!
Episodes
Notes/trivia
The cover is based on the episode Swamp Witch, although the witch does not look at all like the one in the episode.