This needs a stretch. (Feel to remove when satisfied of completion.)
Needed: Physical appearance.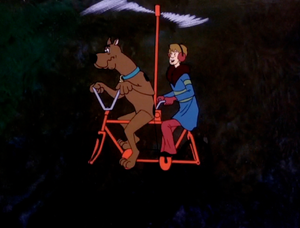 The Scooby-Dooby-bike-o-copter was a flying vehicle created by Scooby-Doo.
Physical appearance
Insert details here.
History
The Scooby-Doo Show
Season two
Scooby miraculously created it in a few moments, using parts pulled from thin air, when he and Shaggy Rogers were about to be cornered by the Viking ghosts. A little later, they used it to rescue Velma Dinkley's Uncle John from a hanging cage. To get Uncle John on, first Scooby had to momentarily stay on top of the cage, during which the Viking ghost leader start to cut the rope holding it with a saw. Shaggy managed to save Scooby, but crashed the vehicle in the process.
Appearances
Ad blocker interference detected!
Wikia is a free-to-use site that makes money from advertising. We have a modified experience for viewers using ad blockers

Wikia is not accessible if you've made further modifications. Remove the custom ad blocker rule(s) and the page will load as expected.