Scooby Doo... Where Are You! issue 7 (Gold Key Comics)
Talk

0
Share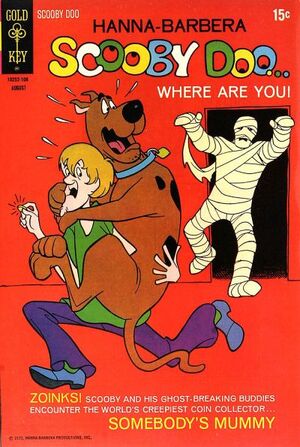 Scooby Doo... Where Are You! issue 7 is the seventh issue of Scooby Doo... Where Are You! published by August 1, 1971 by Gold Key Comics. It contains one story adapted from the Scooby-Doo, Where Are You! TV series.
Stories
Notes/trivia
This is the first issue to contain only one story.
The front cover is based on Somebody's Mummy, and includes Scooby-Doo, Shaggy Rogers, and the Mummy of Ankha.

Shaggy Rogers's pants and shoes are purple. A portion of the left side (or his right side) of his hair is also skin coloured. He's also given green socks, but he's actually known for not wearing any.
Ad blocker interference detected!
Wikia is a free-to-use site that makes money from advertising. We have a modified experience for viewers using ad blockers

Wikia is not accessible if you've made further modifications. Remove the custom ad blocker rule(s) and the page will load as expected.