This article is about the snack bribe from the TV series, Be Cool, Scooby-Doo!. For other incarnations, see Scooby Snacks (disambiguation).
This needs a stretch. (Feel to remove when satisfied of completion.)
Needed:
* Physical appearance.
* History.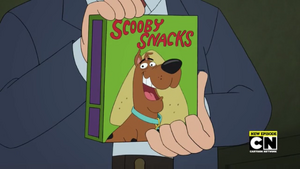 Scooby Snacks are a snack food for human and dog, inspired by Scooby-Doo, having been rebranded from Samson's Snacks' Sorcerer Snacks.[1]
Physical appearance
Insert details here.
History
Be Cool, Scooby-Doo!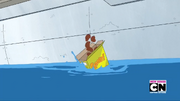 After hearing the myth about pirates throwing their possessions to the bottom of Bribary Bay to tame the purported sea creatures below, Shaggy Rogers and Scooby-Doo both empty their suitcases out over the S.S. Casey, which included a full box of Scooby Snacks.[2][Note 1]
Insert details here. (Sorcerer Snacks Scare)
Appearances
Footnotes
↑ The inclusion of Scooby Snacks (which looked like they were dog biscuits, and did not include Scooby's face on the box) was a mistake by animators and directors who didn't know how things were going to play out in Sorcerer Snacks Scare.[1]
References
Ad blocker interference detected!
Wikia is a free-to-use site that makes money from advertising. We have a modified experience for viewers using ad blockers

Wikia is not accessible if you've made further modifications. Remove the custom ad blocker rule(s) and the page will load as expected.