This article is about Scooby Snacks from Shaggy & Scooby-Doo Get a Clue!. For other incarnations, see Scooby Snacks (disambiguation).
This needs a stretch. (Feel to remove when satisfied of completion.)
Needed:
* Powers granted.
* History.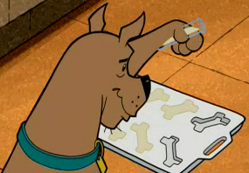 Scooby Snacks, as enhanced with a nanotechnology formula by Dr. Albert Shaggleford, have the ability to give animals super powers of different sorts. The effect normally lasts only until the snack is digested. The main beneficiary from this was Scooby Doo, but marmosets and a mouse have also tried the treats and gained powers.
Powers granted
History
Shaggy & Scooby-Doo Get a Clue!
Season one
Insert details here.
Season two
Insert details here.
Appearances
References
Ad blocker interference detected!
Wikia is a free-to-use site that makes money from advertising. We have a modified experience for viewers using ad blockers

Wikia is not accessible if you've made further modifications. Remove the custom ad blocker rule(s) and the page will load as expected.