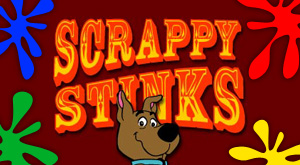 Scrappy Stinks is an flash online game based on Hanna-Barbera's Scooby-Doo. It was first launched in 2000 on the Cartoon Network website. 
Overview
The object of the game is to throw garbage at Scrappy-Doo and not his uncle or Shaggy. 
Game play
The control for this game is only the right mouse button. 
Notes/trivia
This game was made as a reflection of Scrappy being blamed for Scooby Doo's decline in the 1980's and how Cartoon Network percieved him, which also reflected in their bumpers, etc.. 
External links