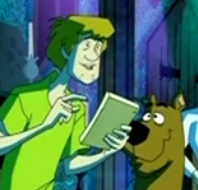 Scream! Scream! Time For You To Die! was a movie planned to be made by Argus Fentonpoof. Vincent Van Ghoul was cast to play the monster, Nightfright, but when he pulled out, Argus couldn't make it.
History
Scooby-Doo! Mystery Incorporated
Season one
Shaggy Rogers found the movie script in Van Ghoul's bedroom, and it was an important clue to the identity of the monster.
Appearances
Ad blocker interference detected!
Wikia is a free-to-use site that makes money from advertising. We have a modified experience for viewers using ad blockers

Wikia is not accessible if you've made further modifications. Remove the custom ad blocker rule(s) and the page will load as expected.